Jersey changes with the seasons, offering something new to experience throughout the year. This is just one of the reasons that Jersey is a great year-round visitor destination.
In the rush of modern life, it's the simple things that appeal to us most. Space, quiet and quality time to spend with the people closest to us and out of the main summer season, Jersey is the perfect island with a curiously continental feel.
Spring in Jersey allows everyone the space to breathe the fresh sea air and time to enjoy natural landscapes as they burst into new life, from coastal viewing spots to a gentle walk in the woods.
While autumn is the time to make the most of the sunny evenings and golden light, as the colours of the island come to life. Visitors can benefit from the milder climate to take in the country or coastal paths and find the perfect spot for an al fresco harvest feast
How you can get ready for a strong shoulder season
Enhance your product
Play to your strengths. Be creative with what each season offers your business. What are you doing differently throughout the year? What is unique about your offering for guests to experience across the seasons? Set goals with your team, increase your photo imagery to include seasonal imagery to show off your assets.
Plan for success
Ensure you have your special seasonal offers planned well in advance so you can share with your direct customers throughout the year to encourage them to visit at other times of the year – offer a unique experience.
Curate your ideal customer experience
How will they find out about you? What would be useful for them to know in advance? What will they do when they get there? What is there for them to experience when they are with you? How can you enhance their trip to Jersey and make it memorable.
Be collaborative
Partner with a local attractions, accommodation, or activity providers to offer a unique experience that you can all shout about in your marketing and promote through Jersey.com. This way you can both benefit from recommending each other and reaching new customers.
Our top tips for extending the season
Pair up seasonal themes and peaks dates with your offering
Embrace the season in your product offering
Include a seasonal refreshment; in cooler months offer a warming welcome drink, maybe a warm Jersey cider. On tours, consider promoting a stop to a toasty bar or tearoom as part of your tour. Make it cosy and comfortable.
Change your menus with the seasons. Genuine Jersey have a guide to local seasonal produce. In autumn think squash, pumpkin and black butter or for spring use Jersey Royals and asparagus. Even the drinks menu can change, perhaps delight people with a hot chocolate selection in Winter.
For accommodation, restaurants, and bars, consider the season as part of your offering. Change the environment. Aim to have a cosy, comfortable ambience, soft lighting, blankets and throws.
Be mindful of the temperature and how it might impact your offering, you may need to make a suggestion on clothing in advance – make it all part of the experience.
Have ponchos and/or umbrellas available if part of your activity is outdoors, or if you have walks on your doorstep have wellies on hand to borrow.
Offer water breaks or include it as part of the welcome to ensure to keep your guests hydrated – use seasonal flavours.
If working with groups, consider a space where they can remove wet gear, store golf clubs or surf boards. Be a year-round business.
Where you have it, promote your real fireplace and the memorable welcome and cosy environment it presents.
Spring arrives early in Jersey. Explore an island where you're never more than ten minutes from the sea. Jersey is the sunniest place in the British Isles with the most breathtaking beaches, so don't forget your beach towel to wipe the sand from between your toes.
Jersey is an island shaped by the sea where some of the most astonishing tides in the world circle the coast and feed the land. See the landscape continuously change and explore the rise and fall of the tides with activities in, on and around the water. Take advantage of the fresh spring days and get adventurous trying a number of water-based activities. From RIB tours, coasteering, jet skiing, SUP, kayaking or boat tours many start the season early to catch the impressive spring tides.
Jersey Cows: How to meet a Jersey girl? As you explore our Curiously Brit…(ish) island, you're sure to encounter herds of Jersey cows enjoying the spring sun. Spot these lovely ladies out and about from March from when the fields are full of succulent grass for them to munch on.
The Jersey Royal potato – no trip to Jersey in spring is complete without experiencing the humble Jersey Royal with delicious Jersey butter. Harvesting begins at the end of March through to July. Up to 1,500 tonnes of Royals can be exported daily in May which is the peak of the season. Watch out for farmers hand picking the potatoes on the steep côtils that line the island.
Indulge in a creamy Jersey ice cream to complete the perfect spring escape. Top spots to enjoy a Jersey dairy ice cream.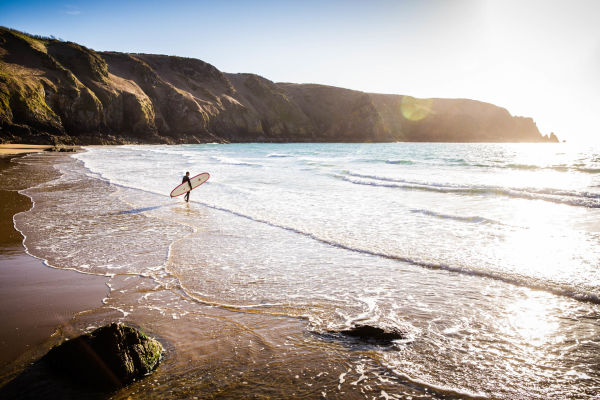 Key days in spring
St Patricks Day
Easter Break
Jersey Boat Show
May Day Bank Holiday
Liberation Day bank Holiday (9 May)
Inspiration for autumn and winter
Summer lasts longer here; the air and sea temperature are ambient, perfect for being outdoors in the golden sunshine and taking a dip in the open seas.
Autumn harvest – our local produce is celebrated with restaurants offering special menus incorporating the best island ingredients.
Visit Jersey Zoo to spend a day amongst an amazing array of animals and learn about today's conservation works started by Gerald Durrell in 1959.
Perfect temperatures and colours are ideal conditions for a cliff path and/or coastal walk. You can walk all round our breathtaking coastline either self-guided or on one of our many guided walking tours.
Cycling in the island's green lanes comes to life in autumn. Our cycling routes offer something for people of all abilities and interests. Take your time to savour the stunning views and stop off for a lazy lunch.
Discover an island with a rich and multi-layered history – from neolithic ruins to German fortifications, Jersey's unique history is waiting to be explored.
Bioluminescence – see the rare natural phenomenon of the bioluminescence with a low tide guided walk at night with Jersey Walk Adventures and watch the rock pools light up in front of your eyes.
Key days in autumn & winter
Jersey Air Display
Jersey Weekender
Pride Jersey
Corn Riots Harvest Festival
Jersey Marathon
La Faîs'sie d'Cidre
Black Butter making festival
October Half Term (end October)
Halloween (31 October)
Tennerfest
Brilliance Jewellery & Watch Festival 2022
La Fête dé Noué
Christmas
New Year
Valentines
February half term
How can the Visit Jersey team can help you?
Talk to us
Tell us about your product and experiences so we can add to our storytelling.

[email protected]

 
Extend your reach
Updating your listing on My Listing Portal, as well as adding offers, events or activities, will put you in front of 1.6m unique visitors to jersey.com.
Jersey.com and social channels
We use details in the 'My Listing Portal' to promote your business and your offers in our consumer e-news and on our social channels. The more we have to shout about, the more appealing the shoulder seasons will be to potential visitors.
What's On Guide
If you've got it going on, let us know! We can make sure it's included in the seasonally printed What's On guide. If you'd like to have What's On Guides to put in your accommodation or business, please contact our Product Team.
Showing Jersey's best side
We have imagery and videos to help you sell Jersey across the seasons. Access Visit Jersey's media library and shout loud and proud about how our island changes and the different emotions it evokes and activities it presents.
Knowledge is power
Do your teams understand the changing face of Jersey across the seasons? Can they tell someone all the best things to do in October half term? If not, we can help! If you want help training your teams on Jersey's product offering, reach out to our Product Team.
Networking
If you've got an idea and want us to help put you in touch with the right partner or business, give us a shout. Work with the Visit Jersey Trade team to ensure you're building relationships with new and existing trade partners.
Spread the word
Let's support each other through PR activity to drive further awareness of the island out of season in the UK, France and Germany. We have regular journalist and media opportunities. Get in touch with your Product team to set up a meeting with the PR Manager to review how you can work together.
Ready to help
View the Product Team flow to see who is best positioned to support you with your business and promotion via Visit Jersey.