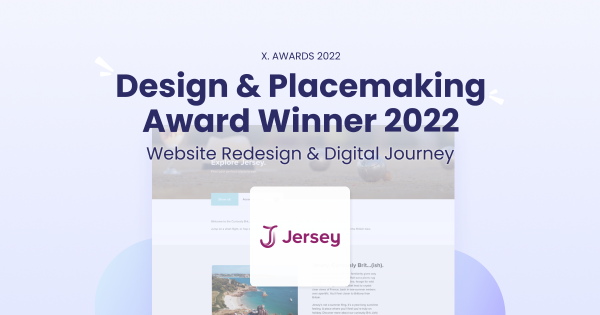 We're thrilled to share that our website redesign and digital experience, created in collaboration with Switch Digital, won the X. Award 2022 for 'Design & Placemaking' from the Digital Tourism Think Tank.
Up against major global competition, the judging panel shared several comments for the winner of the Design & Placemaking Award – Awarded to Visit Jersey for the 'Website Redesign & Digital Journey'.
One of many comments stated Visit Jersey's submission was "a clear example of a small destination punching above its weight."
Why Visit Jersey was a winner
Our objective with the redesign of Jersey.com was to create a dynamic new mobile-first website that inspires visitors to travel to Jersey year-round, providing an enriched customer experience that appeals to Jersey's best prospects, and drives partner referrals, whilst achieving internal team efficiencies through a user-friendly Content Management System (CMS).
The panellist of judges commented, "Visit Jersey's entry to the X. Award's Design and Placemaking category stands apart because of what they've been able to achieve as a small destination, yet with a dedication to following digital best practice."
Our website plays a huge role in promoting all the island of Jersey has to offer, serving as a vehicle for building awareness amongst Jersey's core markets and a key source of referrals for industry partners. Therefore, with this in mind, it's vital that Jersey.com follows the latest design trends, features and functionality to offer the best user experience to support the user journey.
"The integration of the product database, with features and templates throughout the site, including the interactive map, provides a seamless transition from inspiration and discovery, to planning. On the other hand, the use of vertical content features carry over the visual-social-mobile discovery format users have become familiar with."
The judges were impressed with what had been achieved and had scored us highly across four categories, measuring Execution, Impact, Creativity and Strategy. "When judging on every pillar, the results speak for themselves noting, in particular, the excellent early results witnessed in terms of impact. This is a clear example of a small destination punching above its weight."