'The Starving Artist' comes to Grève De Lecq Barracks
Publish date: 25 Feb 2022
ArtHouse Jersey is delighted to announce the upcoming launch of an art exhibition exploring eating disorders. The arts charity has invited US artist Ally Zlatar to share her collection of paintings focusing on her experiences of living with disordered eating, following her participation in their 'Virtual Retreat' in 2020. The exhibition will take place at the arts charity's HQ at Greve de Lecq Barracks from Friday 25 March until Saturday 02 April 2022 between 10:00 and 17:00 (with a private view in the evening on Thursday 24 March). Ally will also be meeting and sharing her experiences with school students while in the Island.
Exploring how the making of art suggests the human condition is more complex than is currently understood, Zlatar examines the notion of the individual experience by focusing on the themes of illness, vulnerability, and authenticity of one's lived experience.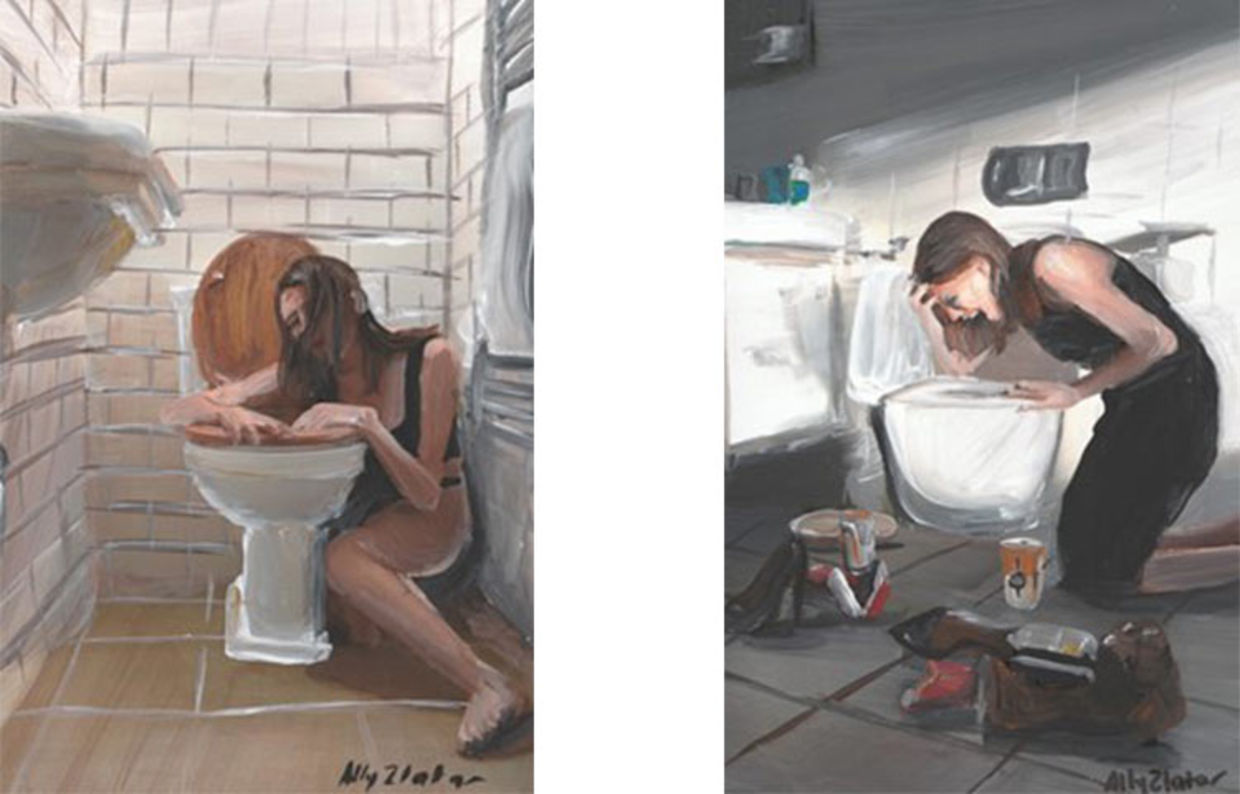 (Pictures: Two piece taken from Ally Zlater's 'Worshipping the porcelain throne' series)
Ally utilises an auto-ethnographic approach to her contemporary figurative painting, working with her personal narratives and life experiences to guide her exploration of identity and self-perception in our modern discourse.
The Starving Artist itself is an art initiative that explores the lived experience of mental illness such as eating disorders and body dysmorphia. The Starving Artist started in 2017, as an exhibition and publication with five artists, but Ally received such overwhelming responses and engagement, that she felt the work needed to be shared more widely. Currently, The Starving Artist creates artistic research, publications, exhibitions, workshops, artist talks and reflections that explore the themes concerning the visual identities associated with eating disorders.
Artist Ally Zlatar said: "As an artist-activist, I believe that art can make a direct impact on society, and I aim to particularly assist eating disorder sufferers. In this way, my objective is to make a direct impact on contemporary society by assisting eating disorder sufferers. Despite public health initiatives often there are limited resources available, and these are distributed inadequately. I passionately believe that treatment in all forms is crucial to addressing this illness. Sales from my artist book, exhibitions, and donations help fund
The Starving Artist Scholarship, which is a charity I started in 2018 that offers financial assistance to individuals who are seeking inpatient or partial hospitalisation programs but have limited resources and are in financial need."
The Starving Artist by Ally Zlatar takes place at Greve de Lecq Barracks launching with a private view on Thursday 24 March between 18:00  and 21:00 and opening to the public on Friday 25 March until Saturday 02 April 2022 inclusive.
NOTE: If anyone is interested in outreach opportunities for an education or specialised community group setting please feel free to email [email protected] in the first instance.