'12 Bays of Christmas' confirmed for 2023
Publish date: 12 Sep 2023
Hot off the heels of the '30 Bays in 30 Days' Sea swimming event which raised over £11,000 for the National Trust for Jersey and Jersey Hospice Care this summer, the '12 Bays of Christmas' event encourages local sea swimmers who brave our chilly waters every day throughout the year to take part in this festive challenge.
Islanders who have continued swimming since the summer or are seasoned year-round swimmers are encouraged to take a dip in 12 bays between 01 and 31 December. Each bay has a festively themed name, for example 'Port let it Snow', 'Jingle all the Ouaisné' and so on.
2023 will be the third year that this challenge has taken place and every year, participants get more festive! Participants wear Christmas themed bathing suits, hats and have even been known to get together pre and post swims to sing Christmas carols with a sea theme.
Simone, Juliet and Beccy are year round swimmers who participate in the 12 Bays of Christmas event….Here they talk about their passion for the sea and year round swimming…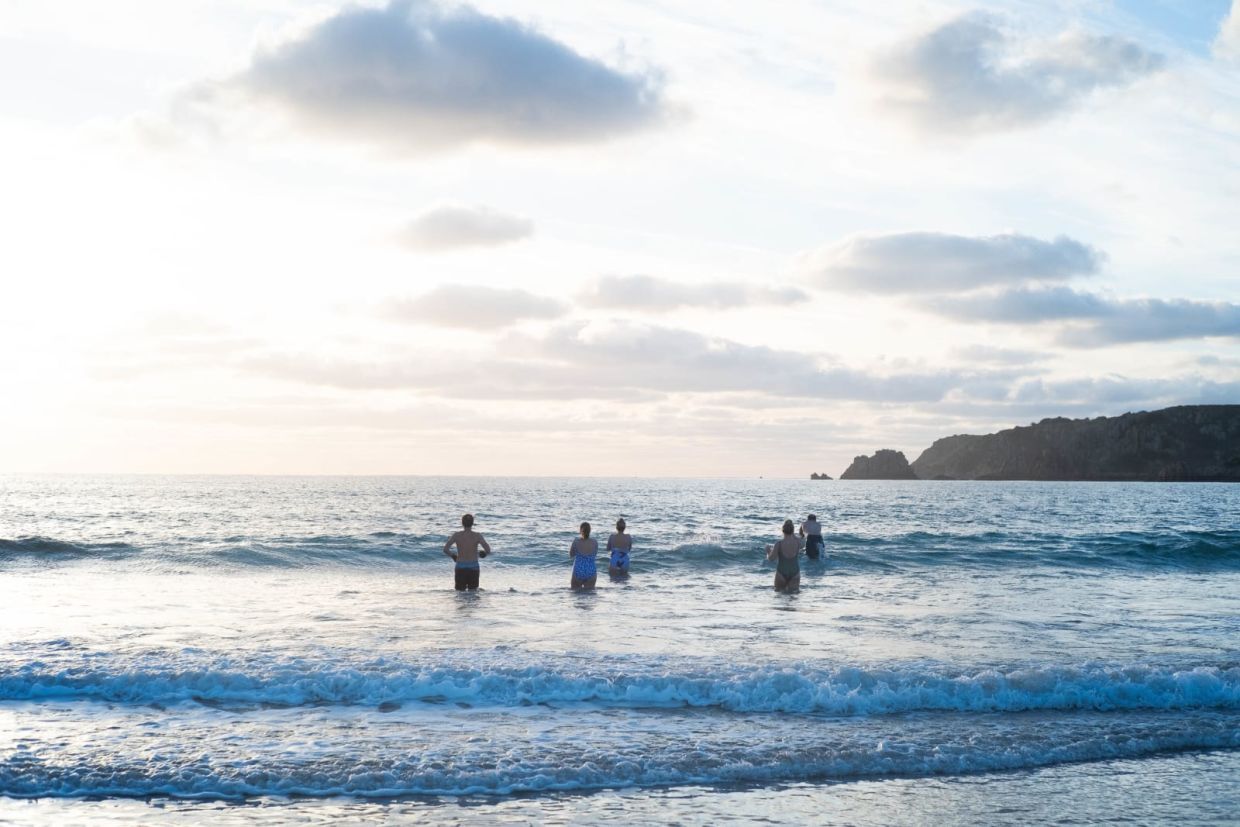 Simonne: "I started sea swimming regularly in September 2020. I thought I might carry on through October and somehow found myself swimming almost every day since. My friends – The Bouley Baythers – swim all year round and we all agree that the sea is our happy place.  We meet, we swim at high tide, low tide, sunset, sunrise, we celebrate, fundraise, solve DIY problems, re-home pets, beach clean, save the occasional swimmers in peril and stage wildlife rescues!  When the winter approaches we get ready to swap our small summer kit for the slightly bulkier winter one.  We brace ourselves, embrace the chill, take the plunge, feel the exhilaration, smile our heads off and head off for a swim. I never thought I was a winter sea swimmer and now I know I was born to do it. I just said yes to someone who suggested it and it has literally changed my life."
Juliet: "There's something very liberating about doing something that your own mind and body (and practically everyone else) tells you is crazy … and finding out it keeps you sane!"
Beccy: "Winter swimming for me is a chance to clear the mind… the water is the only place I can truly switch off from the daily to do lists running through my mind.  In the winter the dip is not for long, but it definitely leaves me feeling revived!"
To register your place, please go to Race Nation HERE.