Feel the love in Jersey this Valentine's Day
Publish date: 04 Feb 2022
Travel-loving couples looking for an excuse to get away this Valentine's Day need to look no further than a romantic escape to Jersey. At just a 45-minute flight from the UK, Jersey is the ideal getaway for newbie daters, long-term lovers, and all those in between.
Travellers can escape to a destination that blends the familiar with a dash of European flair, creating a unique experience of rich countryside and breath-taking coastal views, sweeping beaches and hidden-away bays.
If you're craving somewhere new to visit, that is close to home but a world away, Visit Jersey has pulled together suggestions for a romantic weekend break in Jersey.
WAKE UP WITH A VIEW
Reignite the romance with one of Jersey's boutique spa hotels and discover rooms with a different sort of view. The Royal Yacht Hotel is offering a touch of added luxury, for a special weekend getaway for two. Located in St. Helier, guests can enjoy bubbles – both in a glass and on a balcony hot tub whilst taking in the view overlooking the Marina. Book one of the hotel's indulgent penthouse suites, Stargazer or Mooncatcher, for a romantic stay along with the option of four restaurants, three bars and an award-winning luxury spa. Prices start from £165 per night.
Located in the most southerly part of the island, The Atlantic Hotel is offering the ultimate gourmet break for two – where 'Do Not Disturb' is taken literally. The two-night stay allows loved ones to relax and experience true luxury with a package which includes a three-course dinner from the à la carte menu, a four-course dinner from its 'Celebration' menu the second evening, a bottle of Taittinger Champagne in the room, and complimentary use of Palm Club which includes use of its indoor pool, mini gym, spa pool and sauna. Prices start from £320 per person.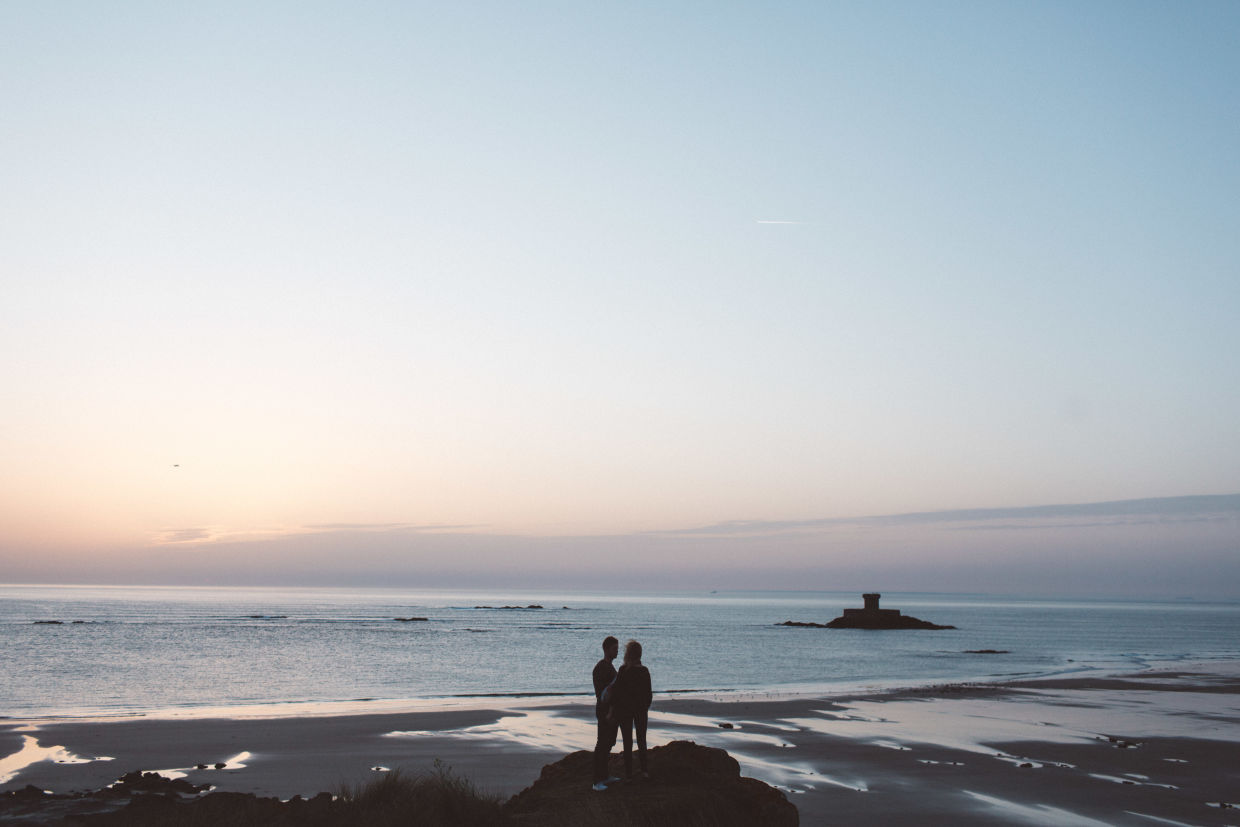 SHARE A ROMANTIC MEAL FOR TWO
Romantic diners can enjoy some of Jersey's finest quality, fresh, local, and seasonal ingredients with a European-inspired menu, at Bohemia Restaurant. Located within The Club Hotel & Spa, Bohemia Restaurant has retained its Michelin-star for a 17th Year, the first star under new Head Chef Callum Graham, who was appointed in January 2020. Offering a special Valentine's Day set menu which includes delicious foie gras, oyster mille feuille and Jersey angus sirloin of beef, guests can experience an intimate dinner with new flavours and textures. Set menu costs £99 per person, plus £59 for sommelier wine pairing.
A family run restaurant and bar located in the heart of St. Helier, Number 10 offers a seasonal menu with a modern spin on British and European food. Couples will be able to indulge in a decadent culinary experience before quenching their palates with after-dinner cocktails. Joe Baker, owner and chef of the restaurant, appeared on the Great British Menu for the second time in 2020. Set menu costs £75 per person, plus £49 for a wine pairing.
SHARING EXPERIENCES
Couples are encouraged to take a romantic stroll to La Corbière Lighthouse, one of Jersey's iconic sights. With its breath-taking coastline, adventurers may even be lucky enough to watch the stunning sunset. Alternatively, Jersey's bracing north coast cliff paths offer spectacular views of magnificent steep cliffs and hidden bays against the drama of the Atlantic Ocean in the background.
For a Valentine's special, St. Brelade's Bay Hotel & Spa are offering a luxurious spa package for two this February. Treatments include a 60minute Fleur De Vigne candle massage, followed by either a complimentary 15minute foot reflexology or a 15minute head massage. Couples can enjoy a relaxing experience in its double treatment room followed by a delicious glass of bubbles and cream tea to unwind after an afternoon in the spa. Prices start from £85 per person.
With the third largest and fastest tidal range in the world, and a rich 6,000-year history of enjoying oysters, couples can venture into the depths of Seymour Oyster beds and enjoy a memorable tasting and Champagne tour. With over 14 million oysters set in tranquil crystal-clear waters, tour guides share the history of Jersey's oyster farming. On a clear day the experience is complete with the continental backdrop of the French coast Tours cost £30 per person.
ROMANTIC SPOTS TO POP THE QUESTION
Those looking for an extra special getaway will find Jersey is the perfect destination to share a romantic moment with their loved one. From medieval castle views to dramatic cliff tops, and some of the most beautiful beaches in the British Isles, there are plenty of backdrops and secret spots to pop the question. Get down on one knee under the Grosnez Castle or on Plemont Beach, just a few of the undisruptive and romantic locations available across the island.