Regeneration plans for 'Les Sablons' on Broad Street
Publish date: 07 Mar 2022
Le Masurier is proud to present proposed plans, subject to planning approval, for the regeneration of more than two acres of central St. Helier. A public consultation will be held at the Town Hall in St Helier from Thursday March 03 to Saturday March 05, 2022.
The area in the heart of town will become known as Les Sablons, which means the windblown sand and will respect the old harbour wall within the development. Hundreds of years ago, before the reclamation of the seafront, this historic wall protected an emerging St. Helier from the sand that would be blown from the beach. It also marked the boundary of the original harbour, which was the gateway to the Island for traders and merchants. Centuries after Jersey's story of growth and expansion began, this location will once again become a hub of activity creating new public and private spaces that are flexible, adaptable and inclusive for islanders to enjoy.
The Les Sablons vision is to create a vibrant place to visit, stay, eat, drink and shop. A new walkway and large landscaped vibrant courtyard, from Broad Street through to Commercial Street, will deliver a pedestrianised connection through from the centre of town to Liberty Wharf and will include landscaping with trees and plants and artwork created by local artists who are acclaimed internationally.
Every aspect of Les Sablons has taken careful consideration into the factors that environmental impacts have on wider social and economic outcomes, with sustainability being central to the development and its surrounding environment. This new central community and socialising space will transform this rundown area and bring new life to St. Helier with a space for events and outdoor entertainment.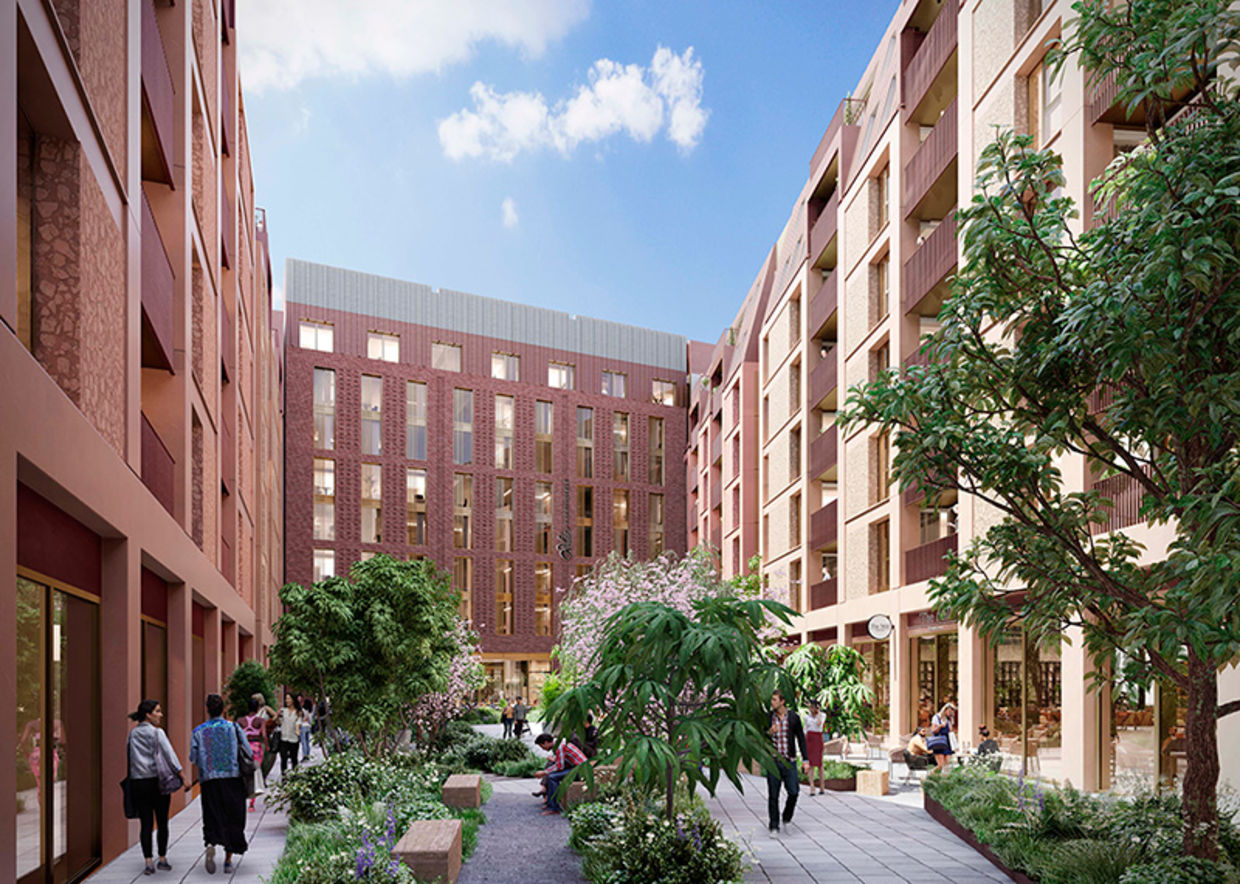 A Wilde Aparthotel by Staycity will be built within Les Sablons. It will provide 103 studios and apartments, attracting visitors to Jersey, supporting the Island's economy with potential visitor spending of around £8.9 million a year and generate more than 25 new full-time jobs at the Aparthotel.
Brian McCarthy, Managing Director, Le Masurier, said: "We are delighted to partner with Staycity in bringing a Wilde Aparthotel to Jersey. This demonstrates Le Masuriers and Staycity's confidence in Jersey. I believe that this is a real success story for Jersey which will provide a host of social and economic benefits."
"Staycity is excited about the prospect of bringing the Wilde brand to St Helier," commented Simon Walford, Staycity Development Director UK. "Our aparthotels appeal to people travelling for a variety of reasons – some leisure, some business – and we are confident this well-appointed Wilde Aparthotel will prove a welcome addition to the current accommodation mix. The Les Sablons site is a fantastic location and we very much look forward to becoming part of the community in Jersey and helping to broaden the offer for the Island's growing number of visitors."
Amanda Burns, CEO, Visit Jersey, said: "We are delighted with the news of Le Masuriers plans for Les Sablons, which will provide a real boost for tourism, and shows confidence in the sector. As we look to promote the growth of Jersey's tourism industry year-round, accommodation like Les Sablons helps to improve productivity within the visitor economy and will appeal to the needs of our visitors."
Brian McCarthy added: "Our Les Sablons development represents a significant investment in St. Helier, helping with the regeneration of Broad Street, boosting tourism and business. In addition, the impressive new residential units will help to meet the chronic demand for housing that the Island has, and St. Helier specifically."
Plans include 238 residential 1, 2 and 3 bedroom apartments, meeting the demand for private first-time buyer accommodation. There will be parking for 96 cars including accessible parking, car charging, and large areas dedicated for bicycles. Les Sablons will also include approximately 10,000 sq ft of retail/commercial space with the potential to provide high quality food and beverage offers.
Simon Crowcroft, Constable of St. Helier said: "I welcome the proposals by Le Masurier to continue their commitment to the town of St Helier and the Island's tourism industry in the Les Sablons development. The new residents in the planned accommodation and the visitors staying in the new hotel rooms will have the heart of town on their doorstep, while the proposed hospitality venues will add to the rich and varied offer already provided by the town for all Islanders. It's also to be hoped that the development will lead to further improvements in the public realm of Broad Street and Charing Cross."
Le Masuriers proposals come at no cost to the taxpayer. The project will provide tangible benefits both now and in the future to St Helier and our Island through tourism, regeneration, housing, leisure, employment, pedestrianised connectivity and placemaking.
The public is being invited to view the plans, exhibition and submit their feedback at the public consultation being held at the St. Helier Town Hall, Thursday March 03 to Saturday March 05, 2022. There is no requirement to book.
For more information, go to: lemasurier.co.uk or follow Les Sablons on Facebook.