The Sound of Colour – An Ambitious Visual and Sonic Feast
Publish date: 03 Sep 2021
ArtHouse Jersey is especially delighted to announce the hugely ambitious visual and sonic feast 'The Sound of Colour', a limited run of events designed by internationally renowned projection designer and creative director Akhila Krishnan. This unique commission will see these performances serve as the headline events for Skipton Big Ideas, the charity's interactive exhibition on a scale never before seen in the island at the St. Helier Town Church. A total of eight performances will take place over four nights from Wednesday 20 October to Saturday 23 October 2021.
The Sound of Colour, jointly sponsored by Bedell Cristin and UBS, is designed to be a fully immersive spectacle that will leave the audience feeling truly inspired. It will explore the themes of identity and sustainability using projected images and film loops that will fill the entirety of the ceiling of the St. Helier Town Church with colour and light. The moving imagery will be accompanied by a live performance of a specially commissioned musical score by Berlin-based music producer Viv Le Vav, one that combines instruments, electronic sounds, and the voice of singer-songwriter and BBC Introducing artist, Casi. The Sound of Colour is a unique 30-minute performance of visuals and sounds, delivered at an international arts standard and will transport audiences far beyond the walls of the Town Church to explore our island's identity and future in the face of huge societal and environmental shifts.
ArtHouse Jersey has also set aside a large ticket allocation for The Sound of Colour to come under the category of 'special access'. 'These places are reserved especially for people with disabilities who can't ordinarily access arts content in the island easily.' These performances are also supported by The Jersey Community Foundation with funds from the Channel Islands Lottery.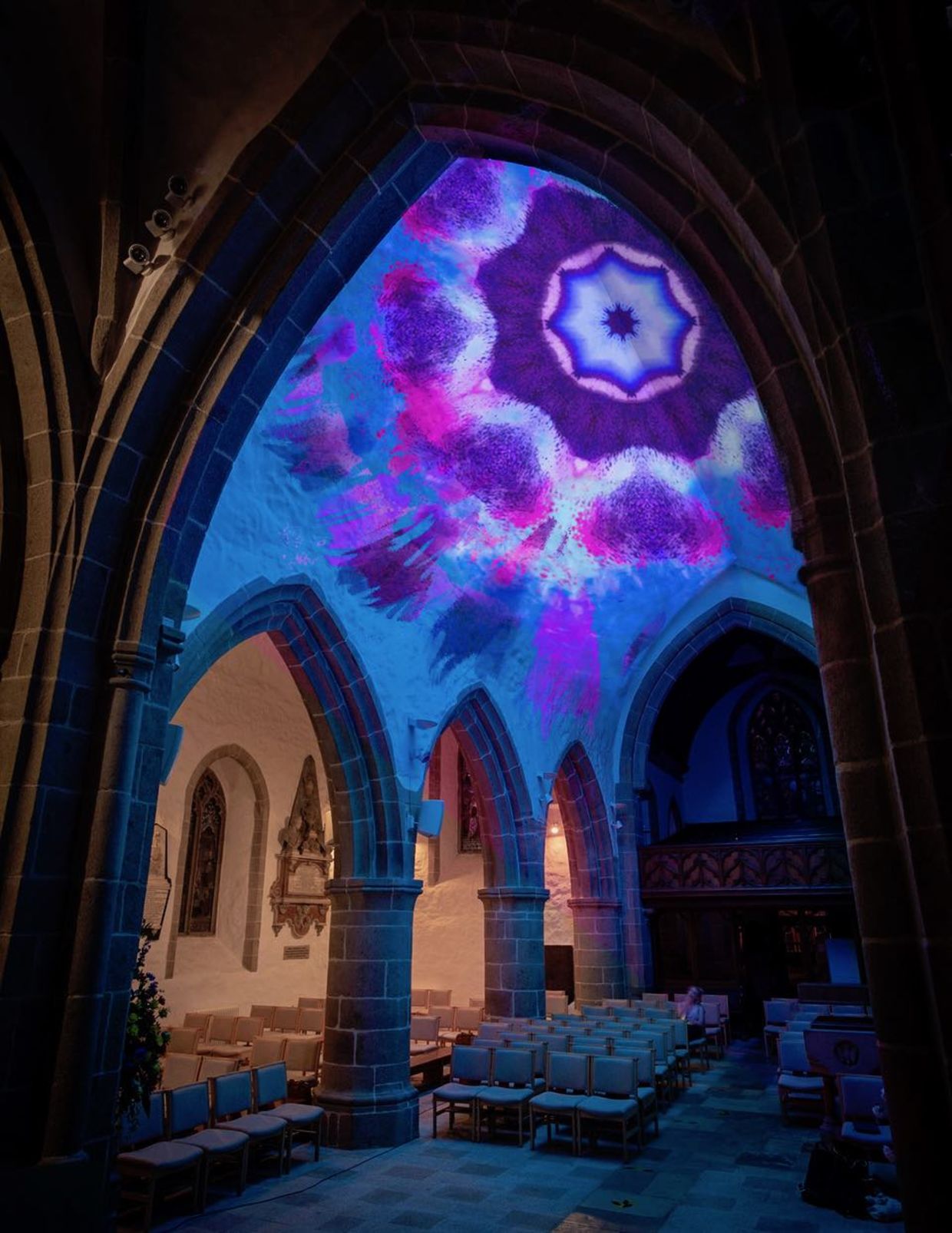 Akhila Krishnan is a multi disciplinary designer and director working across fine art, graphic narrative and moving image projection for live experience and virtual reality. Akhila graduated from the Royal College of Art and the National Institute of Design, during which time she was also an exchange student at the École Nationale Supérieure des Arts Décoratifs, Paris. Akhila has worked on projects for the London Olympics Opening Ceremony, Somerset House, Channel 4 and The Sydney Opera House, to name but a few. Indian born, but now living and working in London, her work explores the possibilities that technology offers to take narrative and story-telling beyond the screen, bringing it into live spaces via shared experiences.
Viv Le Vav is a highly acclaimed Jersey born, multi-instrumental performer and composer. Following his graduation from the University of Oxford, Eddy formed TEDDY, a band that won critical acclaim from the Guardian, Clash Magazine, and NME, enjoying success with radio plays on BBC Radio 1, 2 and 6. In 2016, Eddy took part in ArtHouse Jersey's 'Artist Lock-In', bringing together creatives from across the world to collaborate on the creation of new work. This precipitated changes in Eddy's life, leading to him building a Turkmenistani-style yurt and moving to Berlin. During this time he worked with Casi and the Blind Harpist, performing in the UK and USA, and collaborating with Cardiff based experimental theatre company Cwmni Pluen to produce work that went on to tour across the UK. In Berlin, he started to release music under the moniker, 'Viv le Vav' and inspired by lo-fi artists like Molly Nilsson, he started to explore the balance between the extreme editing of modern production techniques and the rawness of live performance. This culminated in the release of two albums, an E.P., and singles produced by Steph Marziano, supported by ArtHouse Jersey.
Director of ArtHouse Jersey Tom Dingle said:
"The Sound of Colour is our showstopping musical event for Skipton Big Ideas. We believe that some of the most exciting artistic experiences happen through collaborations across art forms and with artists of this calibre we are in for something truly inspiring. I would like to add my sincerest thanks to both Bedell Cristin and UBS whose generous sponsorship has made these events possible. The Sound of Colour has been designed to be inclusive and it's our sincere hope that as many people as possible will make the most of this exceptional opportunity to attend an event of such stunning creativity right on their doorstep."
Tim Pearce, Global Managing Partner, Bedell Cristin, commented:
"We all appreciate that the arts has been severely hit by the impact of the pandemic and it's important that industry make a contribution where it can to support the return of live performances. Bedell Cristin has been a long established sponsor of the arts in Jersey and we are delighted to support ArtHouse Jersey in a truly original, inclusive and inspiring artistic events at the town church."
Tom Hill, Group Country Head, UBS Jersey added:
"It gives us enormous pleasure to be able to support this innovative and unique event. At UBS, we make it our mission to support the arts in our community and we are grateful for the work that ArtHouse Jersey is doing to deliver accessible and creative art experiences to the people of Jersey."
The Sound of Colour' which has been created by internationally-renowned projection designer and creative director Akhila Krishnan will take place over four evenings from Wednesday 20 October to Saturday 23 October.
Early bird tickets are available now at £16.50 + booking fee (normal price £21.50) until midnight on Wednesday 8 September by searching for ArtHouse Jersey on Eventbrite.