Update from Condor Ferries July 2017
Publish date: 07 Jul 2017
Welcome to the latest trade update from Condor Ferries packed with recent news. By now you, like us, are all busy with this summer season, whilst the 2017 summer season may only just be starting, we are already actively planning 2018 and will shortly be issuing trade rates, which means you will be able to begin work on your 2018 programmes.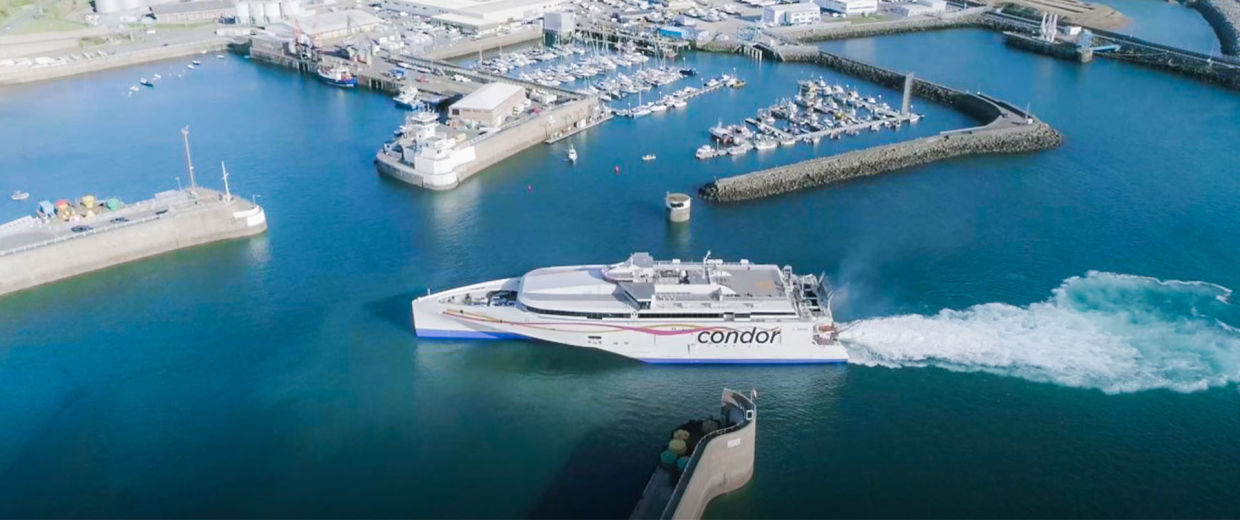 How are we performing
Our key performance indicators for May showed we continue to provide reliable services across our network.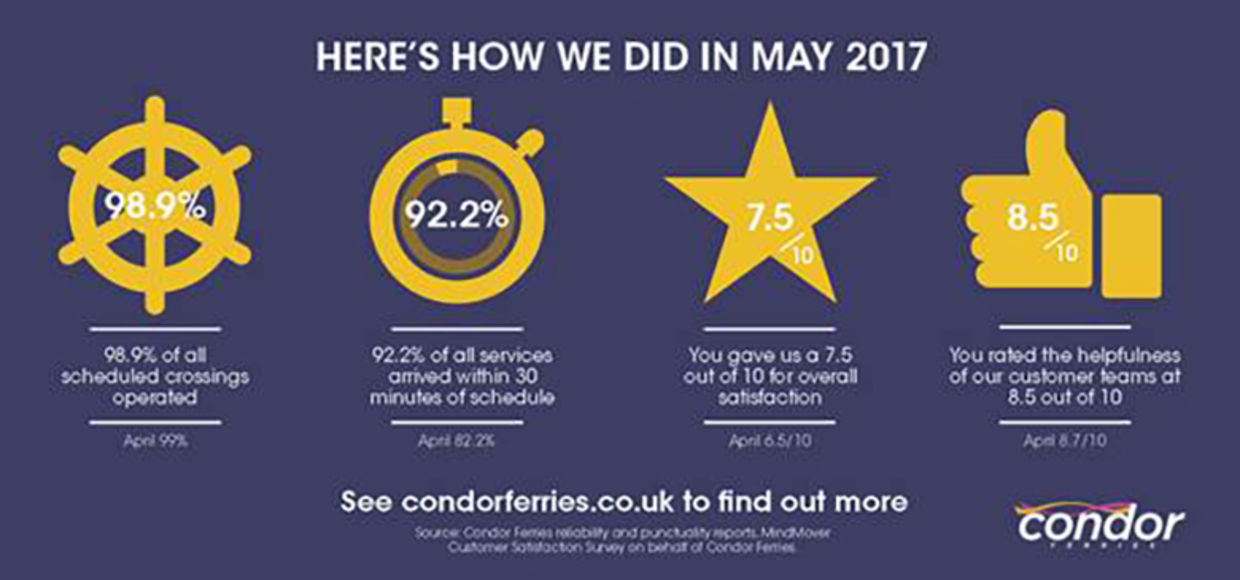 The figures published for May 2017 identified that:
98.9% of all scheduled sailings have operated, of which over 92.2% operated on time or early.  This compares with 99% and 82.2% respectively in April.
In terms of customer satisfaction, we were given 8.5 out of 10 for staff helpfulness and 7.5 out of 10 for overall satisfaction.
New for our customers – Condor's Affiliate Scheme
We have launched a new Affiliate Scheme for all accommodation providers in Jersey and Guernsey. The idea is make it quick and easy for visitors to book their accommodation and travel.
Our Affiliate Scheme is simple to join. You simply place a Condor banner advertisement, that we provide, on your website which links through to the Condor site. When your customers make a ferry booking through this connection, you will earn commission from Condor.  Even better, to make life simpler for everyone, we will look after all the customer communications on their behalf as the booking is made direct with Condor Ferries.
To find out more or want to sign up to become an Affiliate, contact: [email protected]
2017 dry dock schedule
Every year both our high-speed ferries must undergo a dry dock.  As per recent years, Condor Liberation will dry dock in November returning to service in early December, with Condor Rapide docking in January, returning to service for the February half term.
Over the Autumn/Winter 2017 our conventional ferry Commodore Clipper will be in dry dock during September, with the freight only ferry Commodore Goodwill also undergoing maintenance during the Autumn period.
In some cases, timetable changes will mean Commodore Clipper will sail south overnight instead of north. We publish a comprehensive and up to date fleet maintenance plan here which gives more detail.
Promoting travel to the islands
As we gear up for the peak summer season, we've got masses of marketing activity underway promoting travel to and from the islands.
As part of our partnership with Visit Guernsey, we launched a "Do you know what your neighbours get up to" radio campaign with the objective to boost Inter-island travel from Jersey to Guernsey by evoking curiosity of how well their listeners knew Guernsey.
Across the UK-CI and CI-FR/UK routes we launched a "Just Right" campaign. This campaign worked with the proposition that "Long haul is too far, a staycation is too close and Condor is just right" this was a heavy weight media campaign which has run across radio, Jersey & Guernsey door drops, email, website headers/landing pages and display advertising.
A two-day flash sale in April offering half price day trips on all our routes was so successful, it inspired the £25/€25 off promotion recently launched across a five-day campaign.
On more personal news, I'm delighted to confirm that Justin Amey, Head of Marketing, has been successful in his application for our new Head of Marketing & Sales role, and will now have overall responsibility for both the Marketing and the Sales functions.  The joining of these two areas creates better alignment allowing for more trade and direct customer focused campaigns.  I know that Justin is looking forward to meeting you all over the coming months.
Finally, we would like to thank you for your continuing support, and hope you all have a sunny and successful summer.
Kind regards
Alicia Andrews
Executive Director – Commercial, Condor Ferries