We're delighted to launch our autumn campaign which is a continuation and evolution of Jersey. Curiously Brit…(ish).
We're inviting visitors to pluck juicy Jersey strawberries from roadside honesty boxes, ripened in the late-summer sun, wander through fields of wildflowers in the most southerly garden in the British Isles, soak up the curiously continental atmosphere of our al fresco piazzas and explore our breathtaking and storied landscapes where epic coastlines merge with the warm waves of the Atlantic Ocean, and enjoy life slowed down to a gentle roll.
The spring summer campaign continued to deliver a strong performance, driving an increase in appeal of Jersey in the UK, indicating that the messages have a positive impact on how Jersey is perceived and considered amongst travellers.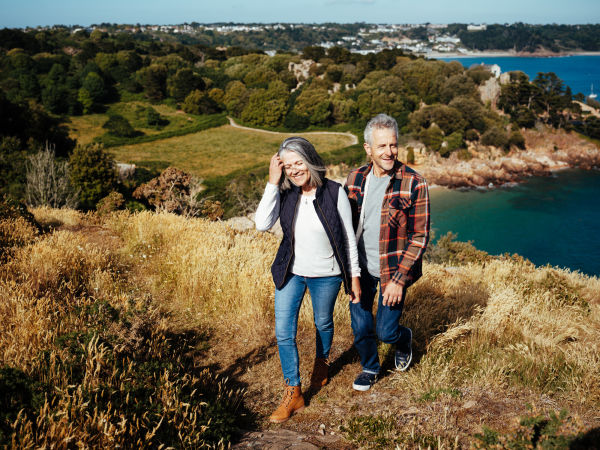 Autumn Campaign
As summer starts to draw to a close we are once again launching a campaign to promote short break bookings to Jersey from the UK this autumn. It is the perfect time to engage with our audience to drive website visits and partner referrals by showcasing what Jersey has to offer as a late summer break or autumn escape destination.
Building upon the success of the Jersey. Curiously Brit…(ish) campaign, we've made the decision to continue with it again this autumn, with one new story alongside existing creatives.
Here's an exclusive look at how the campaign is evolving for autumn 2023
Audience
We know our target audience is craving new and exciting holiday experiences. Our key customer segments have been identified as Authentic Adventurers, Culture Chasers and Easy Explorers. Through qualitative research and in depth interviews we have detailed insights into their key motivations for travel, how they travel, what they are looking for in a destination, inspirational source and media consumption and what activities appeal to them. They are looking for outdoor adventure, coastal and rural landscapes, heritage and culture and food and drink. We also know that they are likely to take short breaks during the autumn months, particularly our Easy Explorers.
Content
We have created adverts that target our individual segments, but still have a broader appeal to a wider audience. Each advert highlights Jersey's curiously continental side by sharing a twist on the familiar British holiday. We highlight our proximity and connectivity to the UK but continue to surprise our audience with how unique, quirky and different. Jersey is as an island for all seasons.
Content distribution
There is one new campaign video edit running alongside four existing creatives – mini discoveries that explore Jersey's curiously continental feel.
A suite of campaign imagery and video assets, including a small number of new images to accompany the new edit, are now available in the media library.
We are deploying an integrated campaign to optimise consideration and decision making amongst our audience.  This will be achieved across a wide range of media channels including digital online advertising, OOH (London underground digital screens) radio advertising across various London stations, paid social media video ads across Facebook and Instagram, plus always on content across our own channels.
How to get involved
We need your support to amplify the story, whether it is sharing the campaign messaging, using a stunning campaign image or ensuring your jersey.com listing reflects how your business will be celebrating the campaign theme. Using the campaign messaging and images will allow to get involved easily. Images and a few carefully selected words can transform your promotional effort.
Trade activation
Autumn in Jersey is all about foodie adventures and embracing the great outdoors.
Our airline and trade partners share specific offers and promotional deals to showcase why Jersey is so unique and Curiously Brit…(ish). After the hustle and bustle of summer on the island, autumn is the perfect time to explore the island at a relaxed and leisurely pace. Restaurants are easier to book, serving up delicious local fare to peckish travellers and Jersey's landscapes are bathed in a gorgeous, golden light. It's the perfect place to come for air this autumn.
Keep an eye out for campaign offers and we would we pleased to discuss your marketing ideas.
Get in touch with: [email protected]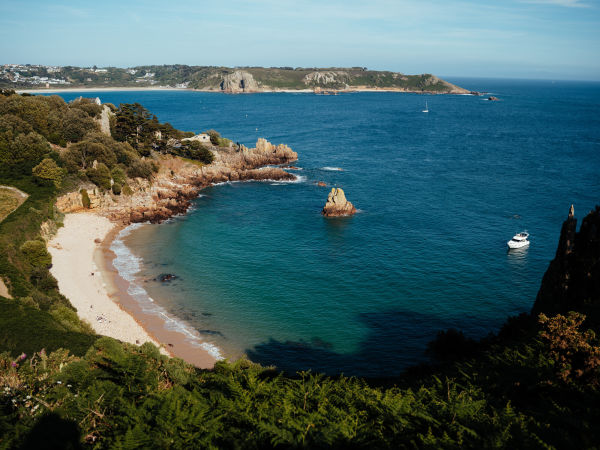 Closer to home
Jersey is the sunniest spot in the British Isles. So, if your customers are looking for an easy escape to a destination that is closer to home, where English is widely spoken and a place to dip a toe in turquoise waters or bask in the late summer or early autumn sun, then Jersey has it all.